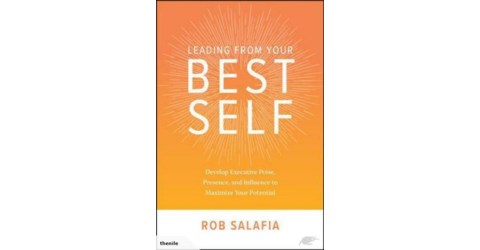 Thought Leaders: Leading from Your Best Self
ARNOLD'S REVIEW
Want to succeed at work and in life? This excellent book provides a roadmap for developing the poise, presence, and influence needed to maximize your potential.
I found it to be an an especially good resource for sales managers or executives in a leadership role – those seeking to develop a confident style and solid footing based on their own life experiences.
Lasting Lesson
As author Rob Salafia points out, when confidence is derived from a familiar launching pad – one's own story – it provides a lasting lesson and a source of poise and composure. Key points include:
by Scott Arnold
CEO, Concord Sales Leadership
 Making a critical difference in the difficult areas of stress and conflict.
Proven techniques for building self-confidence and making personal connections.
Effective ways to develop a professional presence that's powerful, authentic, and effective.
 "Nailing It"
Salafia examines traits we inherently develop when faced with personal and professional challenges. As a result, we can now understand the skills and preparation required to "nail" a presentation.
Another key area for me was the author's ability to share narratives from real-life clients. These focused on individuals who struggled and succeeded in getting past their self-imposed limitations. There are many great lessons here.
Rookies and Veterans
Leading From Your Best Self shows that it is consistency and reliability that builds the reputation of a leader.  A "rookie" or a young professional is largely judged on their best performance.
Conversely, the reputation of a "veteran" or an experienced professional is often based on their weakest performance. As expectations rise based on past strong performances, an experienced leader can be relied upon to reproduce past success.
Knowing the Difference
Understanding the craft of leadership is essential to bridging the gap between an occasional strong performance and reliable effective leadership. This book presents the tools needed to develop this understanding.
About the Author
For 20 years, Rob Salafia's background in stage and theater has provided a unique perspective for helping leaders maximize their individual potential and organizational contributions. He draws heavily on his performing experiences to stimulate a new way of thinking and approaching personal and professional development.